The Most Isolated Tribe in Indonesia – Dani Tribe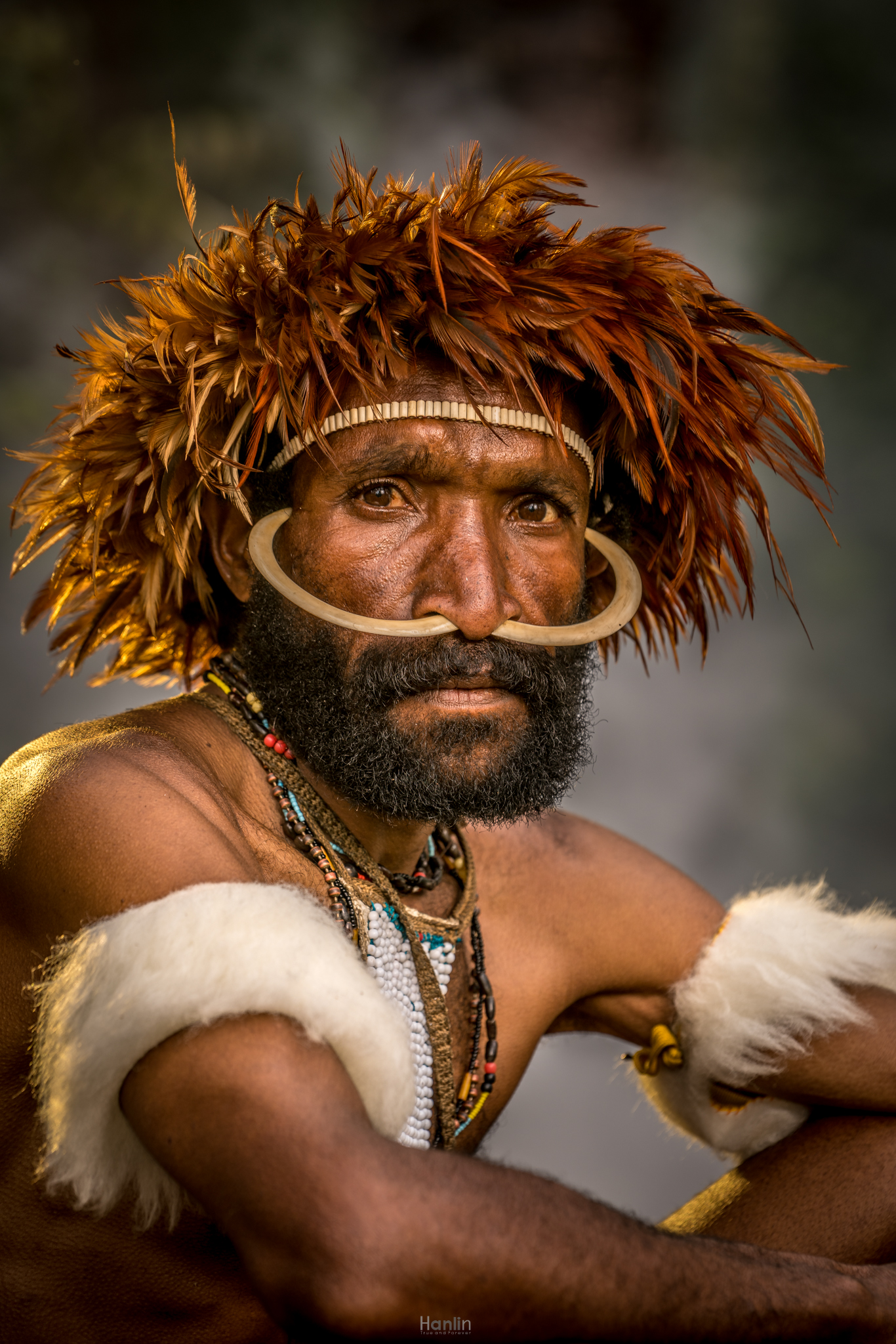 Wamena or Baliem Valley of Irian Jaya, is Indonesia's most remote province is a valley in mountainous Jayawijaya, capital town of the Jayawijaya Regency of Indonesia. It is the largest town in Indonesian Papua's highlands, situated at an altitude of 1,600 meters above sea level in the heart of the Cyclops Mountains surrounded by unspoiled and beautiful scenery. Temperatures can reach 10-15 degrees Celsius at night. Wamena is the only town in the valley though it is estimated that 250,000 Dani live in the region.
There are three mains tribes inhabiting the Baliem Valley (Wamena). The Dani in the main valley, the Lani to the west and the Yali in the South-East. Each tribe has a distinct culture. One interesting way to distinguish between the tribes is from the Koteka. The men of each tribe tend to the growing of the gourds with the three tribes each cultivating a different style. The Dani use a long, thin Koteka, the Lani sport a medium sized, wide cannon-like gourd, and the Yali wear the longest of all.
People of Baliem Valley were discovered accidentally, by American zoologist and philanthropist Richard Archbold, while on a zoological expedition to New Guinea in 1938. At that time, the Dani were living as though in the Stone Age and many of them still practiced cannibalism.
The only way to get to Wamena is flying from Jayapura (about 40 minutes flight), Jakarta to Jayapura take 5 hours flight. That also means EVERYTHING must be flown in, and local prices generally reflect this hence it makes everything is expensive in Wamena. Most of the price is five to ten times more expensive compare to Jakarta. Air ticket, transport and accommodation also expensive, but once you stepped into the valley and met the native's, it is worth every single cent of your money and time!
The Tribal chief of one of the village in Wamena, West Papua,Indonesia
A Dani's tribe man poses for a portrait in full decorative attire including boar tusks in his nose and a flamboyant headdress. Their mostly naked bodies glistening with pig fat used for warmth and styling hair. Using the fat of pigs, they fashion their hair into a variety of styles, many resembling cornrows, dreadlocks and twists.
Back then, the Dani, the largest ethnic group in Irian Jaya, lived in circular thatched huts and bathed in the river. Dani men wore only penis gourds (koteka). Their tools were the stone axe, bow and arrow, and spear. The Dani did not eat their enemies, like the majority of other Papuan tribes did.
Women of the Dani tribe with her amputated fingers "Ikipalin" the Finger-cutting tradition.
Papuans have different ways of showing their sorrow when their relatives die, mostly by shedding tears. However, the Dani, particularly its women, who live in the central highland area of Wamena, observe the ikipalin tradition as an indication of their grief due to their loss. They believe that fingers symbolize harmony, unity and force within an individual and a family. The same is true of a family, which makes Dani people believe that by cutting off a finger, any misfortune in a family due to the death of one of its members can be eliminated. Ikipalin is carried out with or without tools. Some do it by biting their finger joints until they're severed; others by tying up the joints with string to stop the flow of blood and leave the living tissue to die; still others by means of knives and axes .However the practice of finger cutting has grown increasingly outdated over the years, and was officially banned some years back. For this reason it is typically the older women who carry the burden of mutilated fingertips.
https://www.flickr.com/photos/vibranze/29345003561/in/album-72157673334073215/
It is a traditional clothing worn by native male inhabitants of some (mainly highland) ethnic groups in Papua including in the Grand Baliem Valley, it is worn without other clothing, tied in upward position to cover their genitals
Koteka or penis gourd, are normally made from a dried-out gourd (Lagenaria siceraria). The koteka is made of a specially grown gourd. Stone weights are tied to the bottom of the gourd to stretch it out as it grows. Curves can be made in it by the use of string to restrain its growth in whatever direction the grower wishes. They can be quite elaborately shaped in this manner. When harvested, the gourd is emptied and dried. It is sometimes waxed with beeswax or native resins. It can be painted, or have shells, feathers and other decorations attached to it. They are usually decorated by local women, who'll embroider them with twine, shells, seeds or tassels.
https://www.flickr.com/photos/vibranze/29391386406/in/album-72157673334073215/
Honai, the traditional house of Papuans. The house made of wood with a conical roof made of straw or reeds. Honai purposely built narrow or small , windowless aimed to withstand the cold mountains of Papua. Honai usually built as high as 2.5 meters and in the middle of the house prepared a place to make a fire to warm themselves. Honai house is divided into three types , Honai for men, Ebei for women, and Wamai for pigsties.Inside Honai, there is no chairs or table and also there is no bed, for the beds, they only use dry grass as the base, if it seen dirty it will be replaced with new grass taken from the field or garden and the floor of the house made of soil as a cushion.
There is also no electric lights inside Honai. For lighting, they make fire by digging the soil in the bottom floor of the house to be a furnace. Because Honai has no windows and illumination only from the fire, the atmosphere in the house will feel more and more dark when night falls.
As Dani house have no chimney, so the smoke builds up in the house. The constant inhalation of smoke by Dani people leads to serious health problem. So In the 1970's the government did an attempt to get the Dani to move from their smoked-filled huts into concrete-block houses.
The modern housing proved too hot during the day and too cold at night, and the Dani said they preferred their thatched-roof huts (Honai), which retain an optimum temperature. Some Dani have built huts near their new government-supplied concrete-block houses, they stay at the hut and let the pigs stay on the concrete block house.
Women carrying Noken are still a common sight in Wamena. Men and women use it for carrying plantation produce, catch from the sea or lake, firewood, babies or animals like piglet as well as for shopping and for storing things in the home. Noken may also be worn, often for traditional festivities, or given as peace offerings. The method of making Noken varies between communities, but in general, branches, stems or bark of certain small trees or shrubs are cut, heated over a fire and soaked in water. The remaining wood fibre is dried then spun to make a strong thread or string, which is sometimes colored using natural dyes. This string is knotted by hand to make net bags of various patterns and sizes. The process requires great manual skill, care and artistic sense, and takes several months to master.
The Dani's married couple sleep separately in different huts (Honai), women and children in one Honai and husband in the other Honai. Due to old traditions, sex is taboo for the woman after giving birth, the couples abstain from sex for 2 to 5 years. As the result the Dani raised fewer but healthier kids since the woman will be focusing on babysitting during the first years of their kid's life.
This is one of the reason that polygamy is existing in Dani's tribe, even though many Dani's are Christians today. Dani's men are allowed to have as many wives as they can afford. A man should give 4-5 pigs to the girl's parent he wants to marry. For Dani's men, his social status are initiated by the number of wives and pigs he has.
Woman, Land and Pig
For Dani's men, main measure of wealth, prestige and his social status are initiated by the number of wives, pigs and land he has.
A man with a lot of lands will probably be a chief or a headman or at a least very high rank in the social hierarchy.
Dani's men are allowed to have as many wives as they can afford.
One of the main festivities in Dani's culture is the Pig Feast or "Bakar Batu", usually held for weddings, funerals or other important occasions.
The Dani people will stage a "mock battle", followed by ceremony at his family compound. They will have prepared a pig to be cooked in a traditional earth oven filled with stones that have been heated in an open fire.
How the Dani traditionally making fire with two pronged wooden instrument. Within minutes he has caused smoke and sparks to appear on the ball of kindling, which he nurses and blows until it bursts into flames. As a finishing touch, he lights his cigar from the fire.
Pigs are too valuable to be served regularly, and usually it will be served only for special occasion.
Pig will be slaughtered using traditional way with bow and arrow straight in the heart.
If the pig died instantly, it's a sign of the event to be successful, and vice versa, if it's not dead instantly, it's a sign to tell that the event will be failed.
The Dani's use an earth oven method for cooking pig and their staple crops such as sweet potato, banana, and cassava. They heat some stones in a fire until they are extremely hot, then wrap cuts of meat and pieces of sweet potato or banana inside banana leaves.
The food package is then lowered into a pit which has been lined with some of the hot stones described above, the remaining hot stones are then placed on top, and the pit is covered in grass and a cover to keep steam in. After an hours pit is opened and the food removed and eaten.
Sweet potatoes are important food in their local culture, being the most important tool used in bartering, especially in dowries. The whole village and quite often neighbors and guests are invited. The ceremony will take almost a whole day and will end in sitting and talking till late in the afternoon.
https://www.flickr.com/photos/vibranze/29458746681/in/album-72157673334073215/
In Wamena, a remote place in Papua, most children are not familiar with the practice of reading. There are many primary school students who are still unable to read.
With the availability of the library, the children's interests in reading and studying have increased significantly. Although the real results won't be seen in the short time, the positive effect will be seen in the future. Wamena and Papua will have more knowledgeable future generation.
https://www.flickr.com/photos/vibranze/29560921825/in/album-72157673334073215/
Baliem Valley Festival
Baliem Valley Festival is held yearly in Wamena during the month of August. Baliem Valley Festival was originally a tribal war events between Dani, Lani and Yali tribe as a symbol of fertility and prosperity.
A festival that is the scene of a power struggle between the tribes and has lasted generations. At this event, which has as its highlight the mock battles among the tribes, the Dani, Yali, and Lani send their best warriors to the arena, wearing their best regalia.
https://www.flickr.com/photos/vibranze/29271041990/in/album-72157673334073215/
https://www.flickr.com/photos/vibranze/29271035220/in/album-72157673334073215/
The tribal chief stand at watch tower, the tower is built from 4 wooden trunks, held together with strong vines that are also used as steps, on top of which the chief is calling and arrange the warriors to battle.
Took some footage during the Wamena trip and made a short video of it "The Beauty of East Indonesia, Wamena"
For a more dramatic viewing experience, you may want to watch in full HD / 4k and blast your loudspeaker. 😛
Hope you guys enjoy it.
All Photographs taken by © Teh Han Lin